Over the past several weeks, residents of the Ethelred Estate – a 900-unit housing estate situated just south of the Thames river in the London area of Vauxhall – have been mobilizing to resist the government's sell-off of their estate to a housing association. This "stock transfer" of public housing to a housing association has become a common story in England since the government began privatizing public housing in the 1980s. Today, local governments are continuing the trend by using the government's austerity measures as a justification for selling off their estates to registered social landlords. And tenants here at the Ethelred Estate know exactly what that means: higher rent prices, less secure tenancies in the long-term and for many, displacement and the destruction of their community.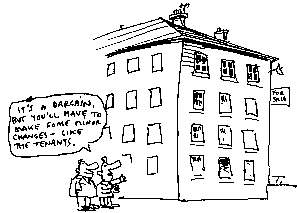 The above cartoon is by "Tim" for Defend Council Housing. The caption reads "It's a bargain but you'll have to make some minor changes – like the tenants." There is a for sale sign on the estate.
Social housing was created in the late 19th century in the UK with the aim of supplying decent homes at affordable rates and with secure tenancies to working class people. After the significant destruction of housing in England after World War II, public housing construction soared and for many, it was the opportunity to leave slums and live in places with their own garden and significantly better housing conditions: less overcrowding, better isolation, running water and adequate sewage systems for each household.
In 1980, Margaret Thatcher passed the "Right to Buy scheme" which allowed council tenants to buy their homes at up to 50% the market rate with only £100 down. It was a popular measure at the time that was carried on even after Thatcher left power. To put it simply, this is how over 1.5 million public housing units were shifted out of the public sector and onto the market. Thatcher wanted to create a great property-owning society where people learned social responsibility and didn't wait for government hand-outs. As such, the money made by government in the sell-off of public housing was not allowed to be reinvested in creating new social housing for a long time, and this would have dire effects on the poor in the decades that followed.
Since then, the privatization of public housing has continued with the increasing sell-off of public housing estates to housing associations (like the Ethelred estate). Today the majority of public housing is dealt with by registered social landlords. While these associations are legally registered non-profit organizations, the sell-off of housing estates is often followed by the demolition and higher density rebuilding of flats, with new private homes and a smaller percentage of public housing units at a higher rent rate than the government would have rented for and with less secure tenancies. These sell-offs also represent the sale of public land upon which these estates rest to entities not controlled by the state. (For more on the transfer of public housing estates, check out Defend Council Housing, an organization that fights to keep public housing public.)
All of these things have led to a smaller supply of affordable housing and with over 1.7 million households currently waiting for social housing, you've got what England's prominent housing non-profit Shelter calls a housing crisis. Despite all these efforts, over 4 million people still live in council housing in the UK and today's coalition government is taking another swing at public housing, moving the country even further away from the post-wartime ideal of "a decent home for all at an affordable price". Here's how:
Conditions to receive housing benefits – implemented in the 1980s to help the lowest-income residents pay rent in both the social and the private sector – are changing so that experts claim that hundreds of thousands of people will be displaced out of UK cities. These benefits are what keep the lowest income people living in expensive cities like London and near jobs. The conservative mayor of London, Boris Johnson, has criticized these reforms, calling them "Kosovo-style social cleansing" and many worry about the spike in homelessness these changes will cause.
These maps show the affordability of areas in London to tenants on housing benefit in the private sector. The city becomes increasingly unaffordable to them over time. (For more on benefits changes check out this BBC article.)
Secondly, the terms by which the government dictates "affordable housing" in the country are changing, so that affordable housing will now be calculated at 80% of the market rate in an area. In a city like London, where gentrification of lower-income areas is ever expanding (pushing market prices up), this measure will further displace low and middle income residents out when they can't afford to pay the inflated market prices. This measure is accompanied by a change in tenure security for affordable housing tenants. Long-term tenancies in social housing are now being replaced by a 2 year tenure, assuring the turn-over rate (and thus the rent hikes) happen faster, and assuring tough times ahead for the lowest-income residents and an increase in homelessness.
Taking all of these measures together (and there are more), when you see that for example, 11,000 disabled people could be kicked out of their homes because of changes in housing benefits, what the government is doing is beyond privatization. It is all-out class war. In mid-September, Ethelred tenants will be asked to vote for or against the transfer of their estate. The outcome of the vote will determine not only the fate of 900 tenants but in a small way, the fate of public housing in inner-city London.