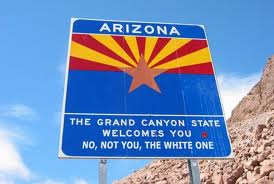 I am too far from Tucson now, thousands of miles away, but this place where I grew up is so deeply in my heart I cannot turn my head from the news that daily seems to grow more awful. Sheriff Joe Arpaio never ceased to amaze me with his contempt for everyone I hold dear, along with human rights and the law itself. But with all my cynicism  he still managed to blow me out of the water with Steven Seagal and his shenanigans, involving tanks in an anti-cockfighting raid, shifts with the border patrol, helping find marijuana in the desert.
Of course Arizona has a long tradition of shenanigans. Remember governor Evan Mecham? Maybe you don't, but he taught me the word pickaninny, and after listening to him speak for about 30 seconds, Public Enemy's 'celebration' of Arizona is a needed release. For many people outside Arizona, Public Enemy is often what they think of first when they hear about my state. Tucson is a deeply divided city, and I count myself so lucky that I grew up on the South side. While race and class are fluid things, and the spaces that grew up around soccer and church and the school bus often served to build a community and conviviality that challenged and sometimes overcame very ugly norms, a very deep racism has always existed there. It has made its ugly mark on my own soul, forget about those of my friends of colour who have had to battle every day in a way that I will never have to. That's the point isn't it, that this kind of violence (and all racism is violent, which seems too often forgotten) is damaging to everyone, even to those who benefit from it as many white folks surely do. It makes community, solidarity, and democracy all but impossible, though people continue and struggle to build these things in spite of it.
I didn't think I could be surprised anymore, but then along come HB2281.
THE LEGISLATURE FINDS AND DECLARES THAT PUBLIC SCHOOL PUPILS SHOULD BE TAUGHT TO TREAT AND VALUE EACH OTHER AS INDIVIDUALS AND NOT BE TAUGHT TO RESENT OR HATE OTHER RACES OR CLASSES OF PEOPLE.
15-112. Prohibited courses and classes; enforcement
A. A SCHOOL DISTRICT OR CHARTER SCHOOL IN THIS STATE SHALL NOT INCLUDE IN ITS PROGRAM OF INSTRUCTION ANY COURSES OR CLASSES THAT INCLUDE ANY OF THE FOLLOWING:
1. PROMOTE THE OVERTHROW OF THE UNITED STATES GOVERNMENT.
2. PROMOTE RESENTMENT TOWARD A RACE OR CLASS OF PEOPLE.
3. ARE DESIGNED PRIMARILY FOR PUPILS OF A PARTICULAR ETHNIC GROUP.
4. ADVOCATE ETHNIC SOLIDARITY INSTEAD OF THE TREATMENT OF PUPILS AS INDIVIDUALS.
How fascinating that the Arizona legislature should feel that ethnic studies in themselves promote the overthrow of the US government and promote hate and resentment. It's sort of a backhanded acknowledgement of just how messed up US History is, just how many terrible things have been perpetrated and how much people of color have suffered. Finally, I guess. In response, Tucson Unified School District requested teachers not to teach and removed books from the schoolroom, generating a storm of justified anger and controversy.
There are so many things that are wrong with it, some of my favorite coverage was on the daily show, though only the highlights remain I'm afraid, but there is more on multiple news sites including Democracy Now and Salon.com (where some attempt is made to sort through TUSD's attempt to save face is made). Ethnic studies were fought for long and hard, as it is not just that the voices, stories, and realities of people of color have not been taught, it is that they have been actively erased, both from curricula, and from the landscape. Here is Lalo Guerrero singing about where he grew up in Tucson's barrio viejo, imprescindible:
http://www.youtube.com/watch?v=1MuEVutnGe4
And gone. Lalo himself, and the history that he represents, was never part of anything I was taught. I had to find him for myself, him and everything else to do with Native American, African American, Asian American, Mexican American history. Ethnic studies are a recalibration, a reinsertion of history too long twisted, ignored, and rubbed out. Such censorship has already spilled over into other events like the celebration of Cesar Chavez Day.
It is also the government legislating an atomised individualism, a forced forgetting of the ways in which race has been mobilized to create the inequalities and the injustices we face today, and the prevention of any kind of solidarity and collective action to change that. Mexican author Paco Ignacio Taibo II recently called this neoliberal focus on individual aspiration the greatest myth perpetrated on recent generations (aptly enough, he opened his speech by saying that "glory lies in the books we read"). This focus on individual achievement denies the existence of all structural inequalities, all historical foundations, all causes for the segregation and discrimination that still exist. It makes impossible their dismantling and the building of something new and better. It steals from democracy its very foundations of community spirit, solidarity with others, collective work to manage and improve our society.
But of course there is fightback, the librotraficantes are my favorite. With the banned book caravan publicizing what is being denied to students, I imagine this could well be the greatest single action to get youth (and old people like me) actually reading the really good stuff. Only great things can emerge from this, and through such critical awakenings, true democracy has some kind of chance.